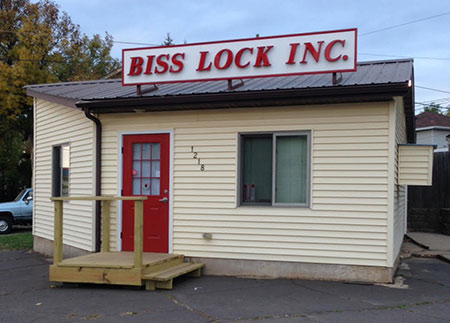 For over 95 years, Biss Lock, Inc. has served northern Minnesota with our trusted and professional locksmith services. As a 24 hour locksmith in Virginia, MN, we are available to come to your home by appointment, or to assist you at any time of the day in an emergency situation.
Here are just a few of the services we provide to our customers:
Residential locksmith: Need to change or repair some of the locks at your home? Get in touch with our locksmiths and we'll be happy to schedule an appointment to come to your house, assess your security needs and style preferences and make the necessary changes.
Commercial locksmith: Whether you're opening a new storefront or simply want to change locks for security purposes, we are happy to assist owners of businesses of all sizes to change or repair their locks.
Auto locksmith: Locking your keys out of the car is a frustrating experience. Our auto locksmiths in Virginia, MN are available to come to you whenever you need emergency services to get back into your vehicle so you can get back on the road.
Key making: Whether you need to copy an existing key or need to have a key formed based on a lock you already have, our locksmiths are here to provide you with exactly what you're looking for.
Decorative locks: Tired of all the boring lock hardware you find at your local hardware store? There are plenty of other options out there. Biss Lock, Inc. provides a wide variety of decorative locks to add a special look to your home.
24-hour emergency service: If you have an emergency situation and need the help of a locksmith, whether it's at your home, office or vehicle, our locksmiths are here to be of assistance. We make ourselves available 24 hours a day, seven days a week to answer the calls of people in need.
For more information about our variety of locksmith services, contact an auto locksmith in Virginia, MN at Biss Lock, Inc. by calling 218-741-5444.